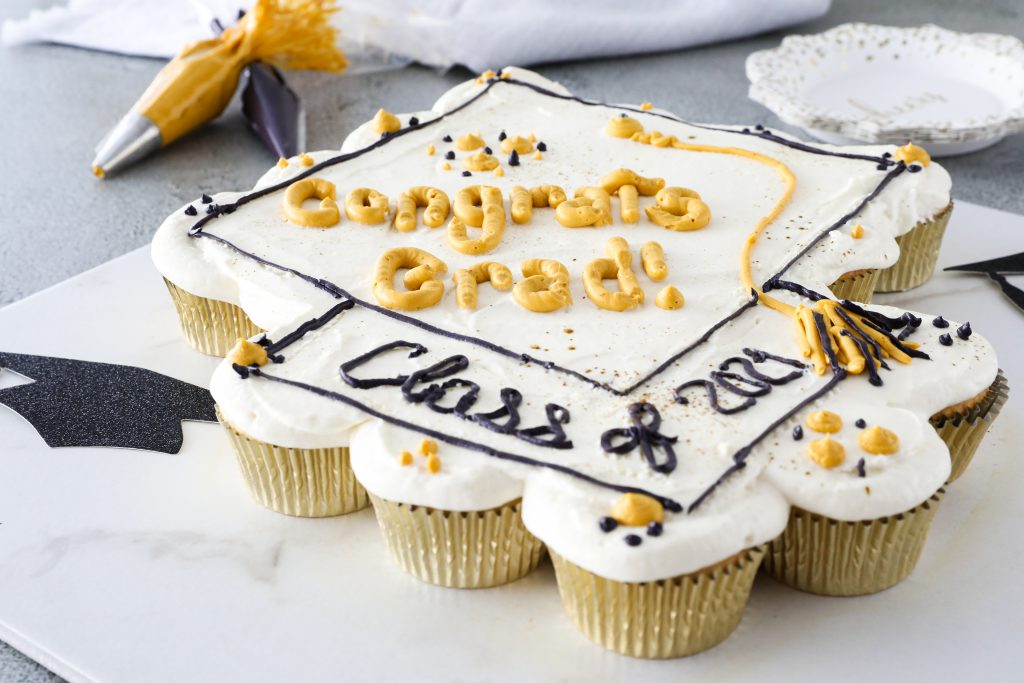 Prep: 30 min
Bake: 25 min
Yield: 20 cupcakes
Pull-apart cupcake cakes are a fun way to celebrate any occasion, and they make for an extra-easy clean-up with no knives, forks or even plates needed. Customize the shape and decorations according to the occasion, of course.
This cake can be customized for any occasion. To make the graduation cake pictured, arrange all but 5 of the cupcakes on a serving platter in a diamond shape (a square placed on a diagonal). Line the remaining 5 cupcakes around the bottom corner of the diamond.
Place 1 cup of frosting in a bowl and tint with gold food coloring. Place another 1/2 cup of frosting in a separate bowl and tint with black food coloring. Set aside.
Frost the tops of the cupcakes to create a flat surface in the shape of a graduation cap with a banner area below it; cover and place in the refrigerator for 10 minutes.
Remove cake from refrigerator. Pipe a border to create the graduation cap plus a banner area below it. Pipe lettering and a cap tassel and add sprinkles or other decorations as desired.
Tint frostings with desired school colors.
If gold food coloring is not available, mix 2 parts golden yellow food coloring with 1 part brown food coloring.