New from Bros That Bundt – Mini Crumb Bundt Cakes!
Our friends over at Bros that Bundt are baking with Swans Down Cake Flour, celebrating their favorite bakes from their childhood!
Today, Victoria is taking us back to the OGs in the kitchen: the Bro-GRANDMAMAS!?
Says Victoria, "Growing up, any Sunday, without fail you could find my grandpa sitting at the kitchen table, reading a newspaper and buttering every side of a slice of my grandma's Incredible Crumb Cake!  With its tender yellow cake base, buttery cinnamon crumb, and dusting of powdered sugar, this is a classic Italian-style crumb cake! Is your mouth watering yet?"
"It's so good that even to this day, my grandma still makes this recipe for my grandpa to enjoy on the weekends." ?
"Now, whether or not this crumb cake needs additional butter, I will leave up to your (and my grandpa's) discretion. ? When our Bros at Swans Down Cake Flour wanted to team up to revamp some classic bakes, there was no question that this Incredible Crumb Cake needed to officially be Bundtified!"
Cake flour is perfect for this recipe because the low protein content enables the development of a velvety smooth yellow cake base, upon which is crowned in a delicious cinnamon crumb! Get Bundtified with the Mini Crumb Bundt Cake recipe below!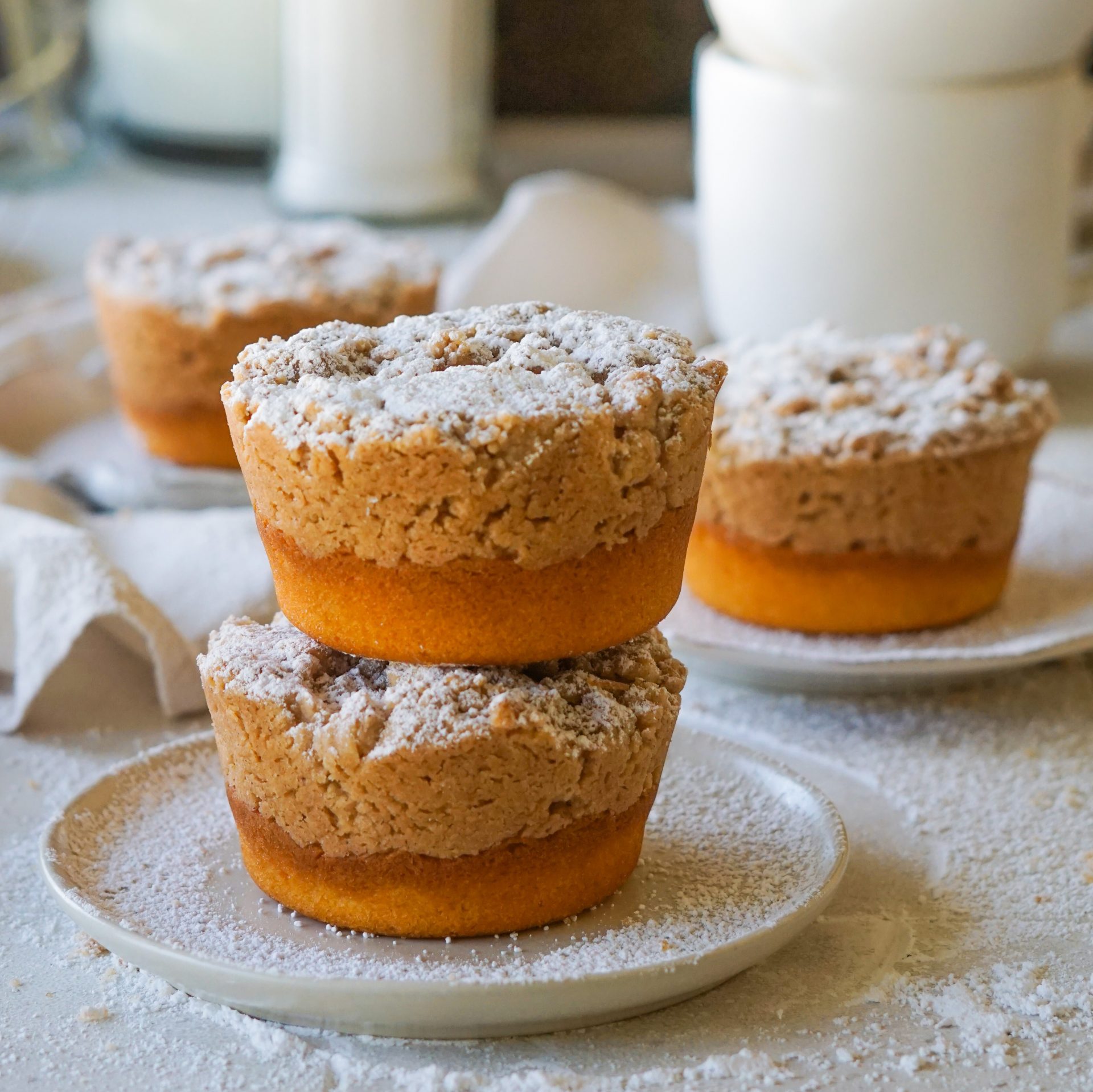 Bundt Pan: The Mini Crumb Cakes were made in a 6-cup Mini Angel Cakes Pan. We used this pan so we could have a flat cake bottom and build a high crumb top!! 
Reverse Creaming Method: In this recipe we utilize the reverse-creaming method, which is when the dry ingredients and sugar are mixed together first. The fats and a portion of the liquids are then mixed into the dry ingredients followed by the remaining liquids.
Adding ingredients in this order enables the flour to be coated with fat to minimize gluten formation once liquids are added. A minimal portion of liquid is included while mixing the fats into the dry ingredients to ensure a cohesive combination and create the initial structure of the batter. Since the initial fat and flour mixing decreases the amount of gluten formation, it also should lead to a minimization of the size of air pockets that are incorporated throughout the batter and result in a finer, smoother, velvetier cake crumb, which is exactly what we want for the cake base of our crumb cake! 
Vanilla Instant Pudding: In Bro-GMA Mary's OG recipe, she uses this stuff called "Dream Whip". Now, I imagine 9/10 bros reading this are like "What is Dream Whip?" and to that I say, fair question. It is a whipped topping mix that is traditionally mixed with milk and vanilla to make a whipped dessert topping – think powdered cool whip. If you can find it in your local grocery store, it's probably near the Jello in a box that definitely hasn't been updated since its inception in the 1950s. Long story long, every time someone new wants to bake my grandma's recipe, she is almost always met with the same question: "Is there a substitute for Dream Whip?" and she will say no and inevitably break someone's crumb-cake-lusting heart. So, to try and make the recipe a bit more accessible, I started playing with potential alternatives. Instant pudding comes the closest to providing that same cake texture as when using Dream Whip. 
Cake to Crumb Ratio: Now, if you have already "Jumped to recipe," you may see that we are only filling up our wells about ⅓ of the way with cake batter. That is for one reason and one reason only: CRUMB! Let's be real now, what really makes a classic Italian crumb cake is that thick, decadent crumb topping. Truly, the yellow cake base is merely just a vehicle for the incredible crumb and these minis do not disappoint. If the crumb isn't AT LEAST as thick as the cake, we don't want it!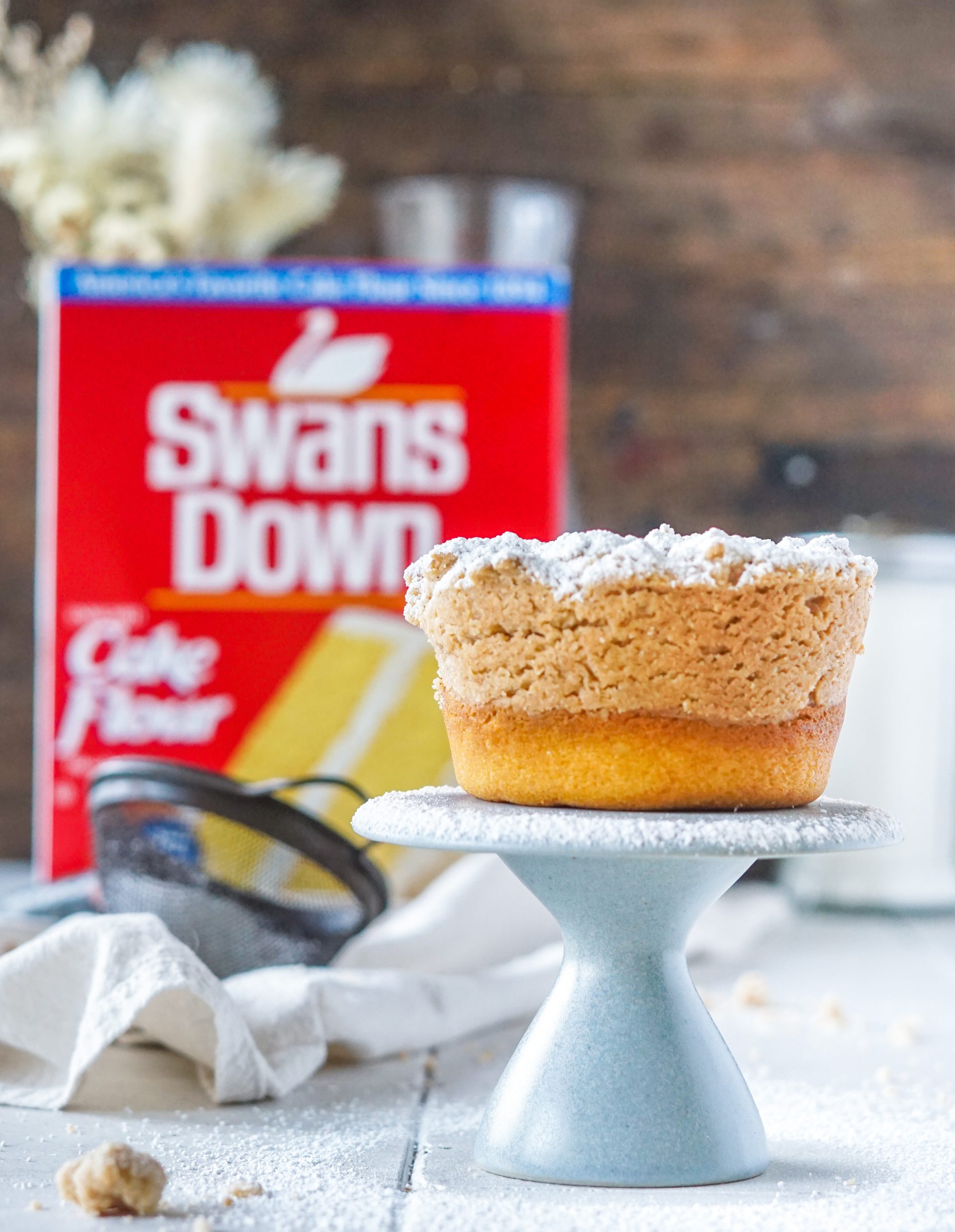 Mini Crumb Cakes
Makes 6 (1-cup) cakes
Ingredients
150 g (1 1/3 cups) Swans Down Cake Flour, sifted 

150 g (¾ cup) Granulated Sugar 

½ teaspoon Baking Powder 

½ teaspoon Salt 

42 g (3 tablespoons) Butter, melted

48 g (½ a pack) Vanilla Instant Pudding Mix

120 g (½ cup) Whole Milk, separated

2 (100 g) large eggs, room temperature 

1 teaspoon Vanilla Extract 

Crumb Topping  (recipe follows)

Confectioners Sugar, for dusting
Directions for Bundt Cakes 
Preheat oven to 350ºF

Prepare the crumb topping according to directions below 

In a small bowl, melt butter and add 3 tablespoons of the ½ cup of milk; set aside 

In a medium sized bowl, add remaining milk, vanilla and eggs; whisk gently to combine and set aside

In the bowl of a stand mixer fitted with a paddle attachment, add the flour, instant pudding, sugar, baking powder, and salt

Slowly add butter/milk mixture; mix on medium speed for 2 minutes until the mixture will look like coarse sand (~ 2 minutes)

Add the milk/egg mixture to the batter and mix on medium speed until completely combined (~2 minutes). You may see some small clumps, if so, don't worry.

Prepare 6-cup Angel food pan with flour baking spray

Using and ice cream scoop or spoon, divide the batter into the prepared wells, filling about 1/3 of the way to the top

Bake for 10 minutes 
Crumb Topping
Ingredients 
412 g (3 2/3 cups) Swan's Down Cake Flour

200 g (1 cup) Granulated Sugar

2 teaspoons Cinnamon

227 g (1 cup) Butter

1 ½ tablespoons Vanilla Extract
Directions for Crumb Topping
In a medium bowl, add flour, sugar, salt, and cinnamon. Whisk to combine. 

Pour melted butter over the flour mixture 

Using a fork, toss the ingredients together until you have a clumpy crumble topping. (This will not be a dry crumble. It should resemble chunks of wet sand) 

After 10 minutes of baking, remove partially baked Bundts from the oven.

Immediately, divide the prepared crumb evenly amongst hot cakes (~120 g/well).Press down with a spoon to make sure you really pack the crumb in there!

Return to oven for 20 minutes or until a toothpick removes cleanly

Remove from oven, place on cooling rack and allow to cool for 10 minutes

Remove the crumb cakes from the pan. (You can do this by flipping the pan onto the cooling rack and then returning the individual cakes back to crumb side up. If needed, gently loosen the sides of crumb cakes from their wells with an offset spatula)

Once completely cooled, dust the crumb cakes with confectioners' sugar, if desired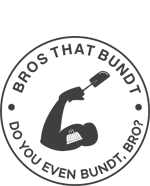 This recipe is courtesy of The Bros that Bundt. To experience the Bundt cake fun together, Victoria Oswald, Ethan Hill, Jon Paretsky, and Sam Mann created the Instagram account @brosthatbundt. Soon, these scientists became specialists in a new field: Bundtology.