Bake with the Bros – Devil's Food Bundt Cake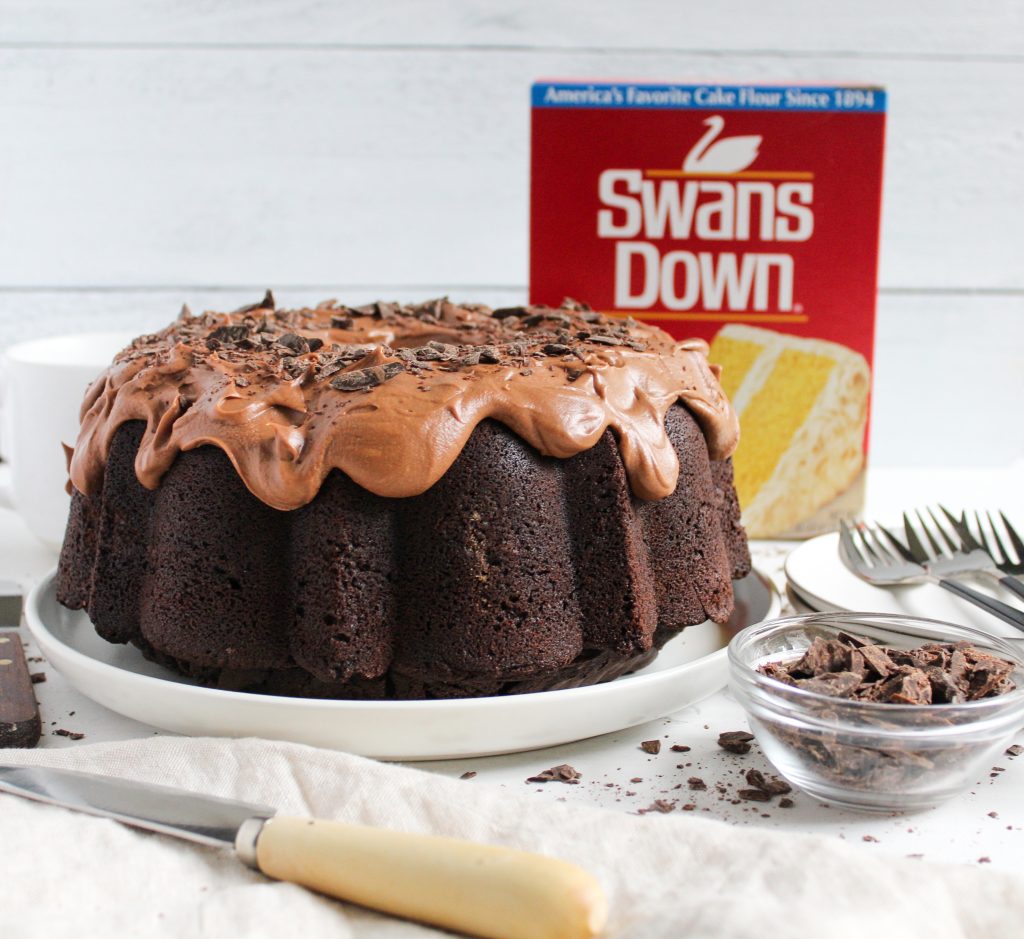 Do you have a dessert from your childhood that stands above all else? You know the one…the pedestal-topping, mouth-watering treat your mom (or dad) used to make for special occasions. The Bros that Bundt have some favorites from their youth (why do you think they love baking so much?!) and they want to share them with you! We're so excited to collaborate with them to bring you a series of spectacular bundt recipes passed down from their families.
First up in our "Bake what ya Bro-mama (or Bro-dad!) gave ya" series comes from Bro, Sam.
"Growing up my Bro-mama would make a layered devil's food chocolate cake with chocolate buttercream frosting. This cake was a rich, decadent treat I got once a year, on my birthday and I dreamed of it the rest of year. I've held this cake in a special place in my heart ever since, so I knew we needed to Bundtify it! The beauty of the Bundt is there's no need for layers…the stunning aesthetic comes standard! ? But, the real star is the velvety smooth crumb and deliciously moist texture that only Swans Down Cake Flour can provide. This Devil's Food Bundt packs such an intense chocolatey flavor into a delicate cake and it's all owed to the cake flour! And to top it off, it's lathered in a creamy chocolate frosting and sprinkled with chopped chocolate." 
Next time you've got that chocolate craving (wait, isn't that all the time? ?) #CakeLifeBetter with this delectable Devil's Food Bundt! Get the devilish recipe below!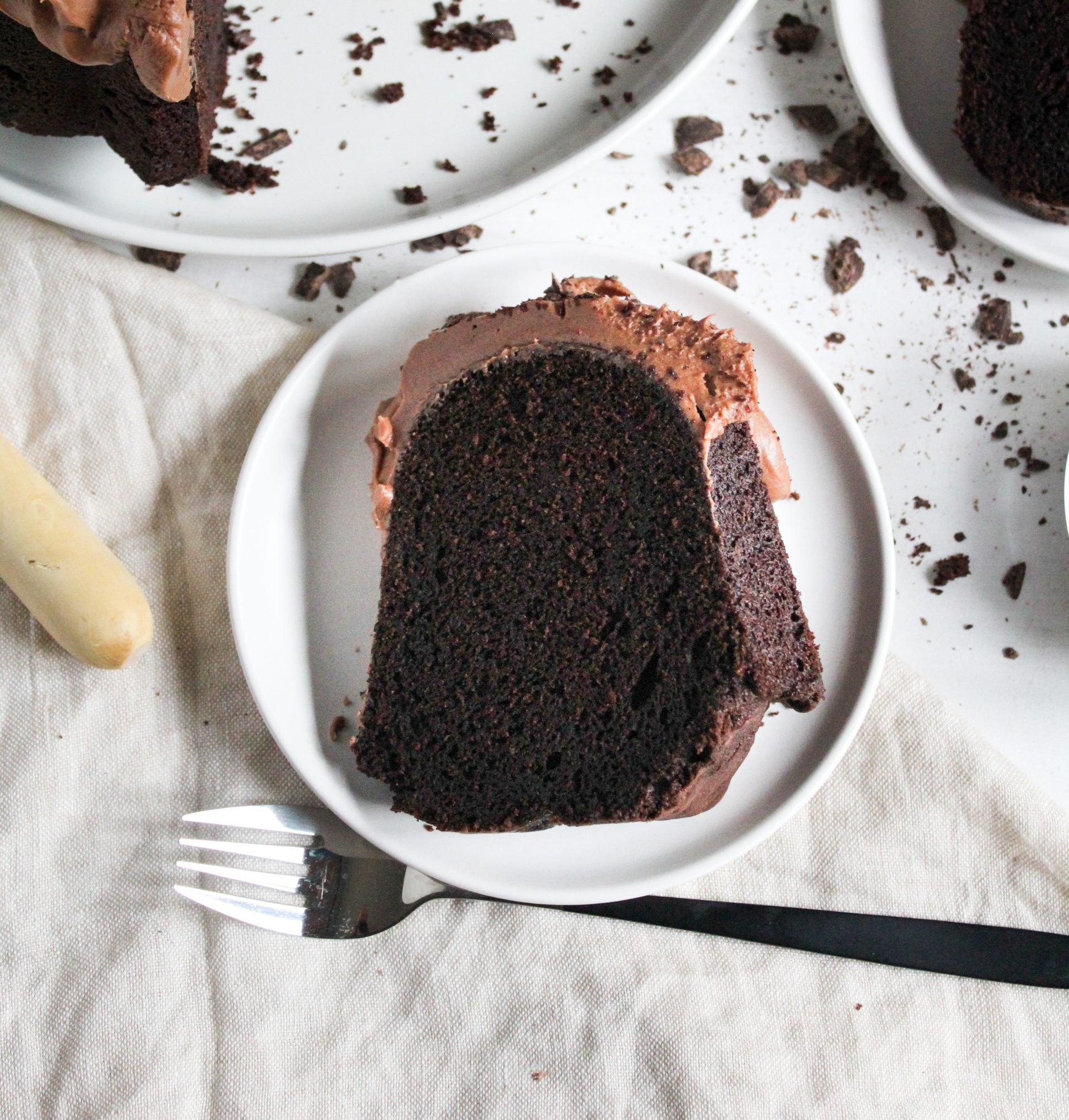 Bundt Pan: The devil's food bundt was made in a 12-cup Bundt pan.
Chocolate: We used 64% cocoa, but anything between 60-70% would work fine!
Cocoa Powder: The addition of black cocoa gives a deliciously dark cake that contrasts beautifully with the chocolate frosting. If you don't have black cocoa powder, then you can use 85 g of regular cocoa powder and the cake will still be irresistible!
Chocolate Frosting: We wanted to re-create the flavor and texture of a chocolate buttercream, but with the thick drop aesthetic we love on our Bundt. The key is in the whisk! The more you whisk, the lighter the frosting will be. But if you're more of a ganache person, we've got you covered! Check out the note under the frosting recipe and we'll get you to the perfect consistency!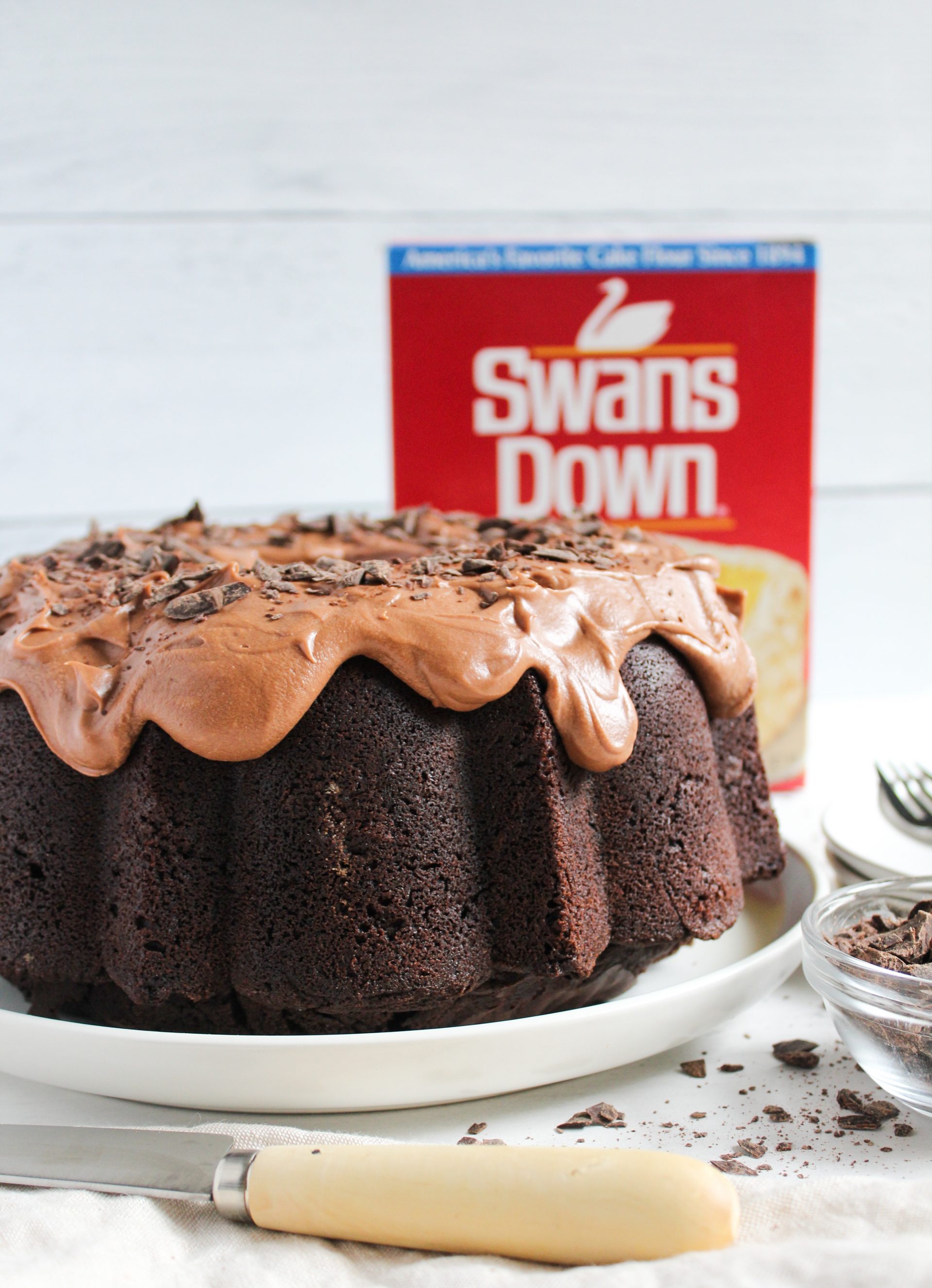 Devil's Food Bundt Cake
Makes 1 (12-cup) Bundt cake
Ingredients
330 g (1 1/2 cups, 3 sticks) unsalted butter, room temperature
445 g (4 cups) granulated sugar
4 large eggs, room temperature
240 g (1 cup) boiling water
85 g (2/3 cup) semisweet chocolate, finely chopped
15 g (3 Tbsp) black cocoa powder
70 g (3/4 cup) cocoa powder, dutch processed
2 teaspoons espresso powder
120 g (1/2 cup) sour cream, room temperature
426 g (3 3/4 cup) Swans Down Cake Flour
½ teaspoon kosher salt
1 teaspoon baking powder
1 teaspoon baking soda
1 tablespoon vanilla extract
Chopped semi- or bittersweet chocolate for garnishing
Chocolate Frosting (recipe follows)
Directions for Bundt Cake 
Preheat the oven to 325 ˚F.
Boil water.
Add finely chopped chocolate, black cocoa powder, cocoa powder, and espresso powder to a medium heat-proof bowl.
Add hot water to chocolate and whisk until smooth.
Add sour cream to chocolate and whisk until smooth. Set aside.
To a large bowl, sift Swans Down Cake Flour, salt, baking powder, and baking soda and whisk to combine.
To a bowl of a stand mixer, add sugar and butter.
With a paddle attachment, beat on medium-high until light and fluffy, 3-4 minutes.
Add eggs one at a time and beat at medium speed until combined, scraping down the bowl after each addition.
Add vanilla extract and mix until combined.
With the mixer on low speed, gradually add flour mixture to butter mixture alternately with chocolate mixture, beginning and ending with flour mixture, beating just until combined after each addition.
Prepare a 12-cup Bundt pan with baking spray with flour.
Spoon batter into prepared pan.
Firmly tap filled Bundt pan on the counter a few time to release any air bubbles.
Bake for 60-70 minutes, until an inserted toothpick comes out with a few moist crumbs.
Remove from the oven and allow to cool for 15 minutes.
After 15 minutes, flip the Bundt pan onto a cooling rack to release the cake.
Let the cake cool completely.
Pour chocolate frosting onto the cake and spread with an offset spatula so it slowly drips down the side of the Bundt.
Sprinkle with chopped chocolate, if desired.
Chocolate Frosting  
Ingredients
160 g (1/2 cup) heavy whipping cream
113 g (3/4 cup) semi-sweet chocolate, finely chopped
75 g (1/3 cup) unsalted butter, room temperature and cubed
230 g (2 cups) powdered sugar, sifted
1/8 teaspoon kosher salt
Directions for Chocolate Frosting
Place chopped chocolate and salt in a medium heat-proof bowl.
In a small pot, heat cream on medium-low heat until bubbles start to form around the edge (don't boil). Be sure to stir cream while heating to avoid curdling.
Add hot cream to chocolate and whisk until smooth.
Add butter and whisk until smooth.
Add powdered sugar to the chocolate mixture and whisk until smooth.
Continue whisking vigorously (3-4 minutes) until soft peaks form (see note).
Use immediately.
Note: Whisking the chocolate cream mixture vigorously (3-4 minutes) will give a light whipped texture to the frosting. If you want a topping closer to a ganache, then whisk in the powdered sugar just until smooth and use.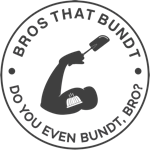 This recipe is courtesy of The Bros that Bundt. To experience the Bundt cake fun together, Victoria Oswald, Ethan Hill, Jon Paretsky, and Sam Mann created the Instagram account @brosthatbundt. Soon, these scientists became specialists in a new field: Bundtology.